Yesterday marked the 39th birthday of the original Macintosh, aka the 128k. It was announced by then (and later) CEO Steve Jobs at an Apple shareholders meeting in Cupertino, California.
It would shake up the computing world and the Macintosh would go on to be a classroom staple, the de facto computer for design and print, a somewhat messy product lineup, then streamlined into a design icon. It now feels that the Mac has made major headway into enterprise and the workplace, in addition to picking up a lot of converts thanks to the iPhone and iPad.
We all know the backstory, so I thought I'd share my journey (so far) with the Mac. Like the title suggests, I've been around for 24 of those 39 years.
It started in 1999. I was working in a call centre doing support for mostly American dial up internet service providers. Most of our calls involved supporting Windows 98, with the odd Windows 3.1 and dreaded Windows NT issues. Just as rare was getting a call from a Mac user. For such an event there was a Mac in our office. It sat in a corner and most people were pretty wary of it.
I however was getting bored with Windows and was really intrigued by the computer that you turned on using a button on the keyboard. I can't recall which model it was, but it was a Power Mac desktop form factor.
The three colleagues who were Mac savvy had all previously been graphic designers, so that was their gateway.
Now at this point I was in the tail end of my teens and still living at home. My dad picked up on my new interest and ended up getting me a going-spare Mac from the college he worked at. The Mac admin there became a bit of a hero of mine… more on that later.
My first Mac ended up being an LC 630CD with a matching 13" monitor, Apple Design Keyboard, and an ADB mouse II. I was tickled, dual booting between System 7 and Mac OS 8. Using the internet with an Apple Talk ethernet adapter. A fire was definitely sparked.
Knowing I was diving headlong into the work of Macintosh, the admin from the college ended up passing along several more Macs to me as they were replaced. I would end up with an LC 580 all in one, a Power Mac 4400, a Power Mac 7100 with a big 17" Apple monitor that became a daily driver for a bit, an Apple IIgs (not a Mac, but still), and a Powerbook Duo 280c with a Duo Dock II. I was incredibly fortunate. This college was the one place in the tiny Canadian island I'm from that had any decent number of Macs in house.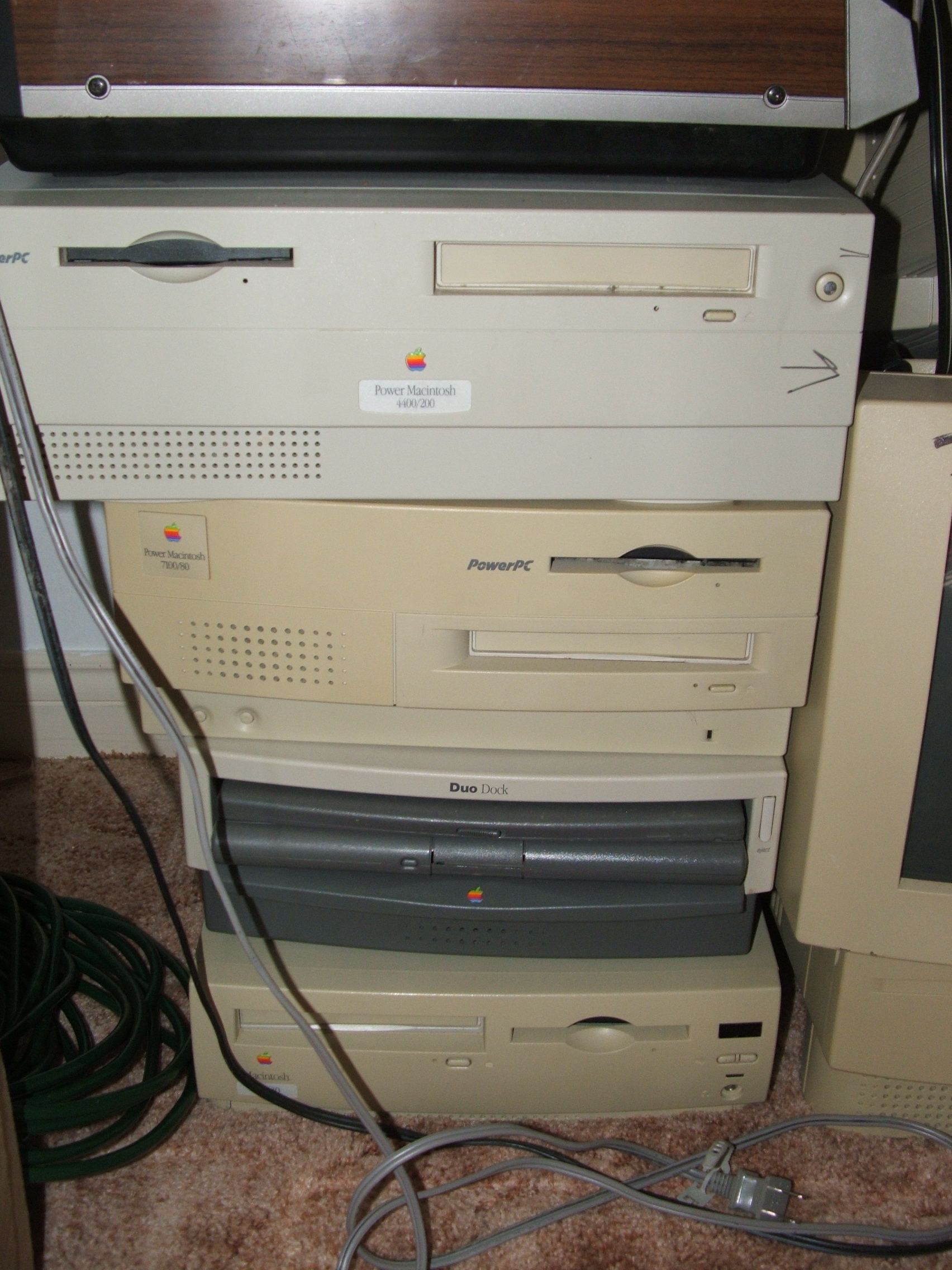 By 2000 I was ready to take the leap into getting a brand new Mac of mine own. Enter the Summer 2000 G3 iMac in Indigo blue. Me and my little band of fellow Mac folks from work all joined in. I had Indigo, another Ruby, another Sage. We all got a copy of Unreal Tournament and would play online together.
All of us ended up working at a different support company, where I would take on the role of training new hires on how to support Mac OS users. There wasn't a Mac available for me to use, so as crazy as it seems, I would take that Indigo iMac with me to work nearly everyday so I could write documentation and take screenshots. Into the back seat of my car it would go with a seat belt on (of course).
In 2002 I though I'd try my hand at going to university. Of course I needed a laptop right? eBay brought me a Powerbook 3400 and a PC card with 2 USB slots. I was the only student in any of my classes with a laptop, let alone one with a subwoofer speaker behind the screen.
Remember the friendly Mac admin at my dad's work who donated all that kit to me? Well one day in 2003 my dad came home and told me that she was going on maternity leave and a replacement would be hired. I don't think the job posting was even available, but off I went the next day to drop off a CV in person to the Computer Services department. It was The Dream Job.
Amazingly, I got the job. I was now in charge of several Mac servers (both Apple Share IP and Mac OS X server) and several labs full of Power Mac G4s (Graphite, and Mirror Drive Door versions), Power Mac G4 Cubes, and G3 iMacs, graphics tablets, professional printers, cameras, scanners and lots of other peripherals. I learned how to do imaging (thanks Deploy Studio!), to manage file shares and directories, and networking, and so so so much more. I learned the issue with InDesign is always fonts. I owe a lot to that job, and likely to Kim, the outgoing admin, for suggesting to give me a chance.
I took advantage of the employee computer purchase program to buy a G4 iMac. And a few years later did the same when the G5 iMac came out. I was super smug that my iMac was a PowerPC as the Intel ones came out just after I bought mine.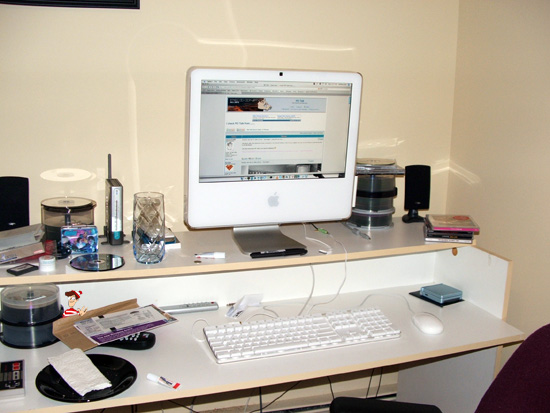 Back at work, I got to do my first mass hardware replacement project, bringing in what was an astounding (for those neck of the woods) 90 eMacs to be set up in the labs. One of them arrived with a dead hard drive. That's not too bad. Somewhere lost to time is a photo my dad took (remember, he worked at the college too) of me standing between pallets of eMacs in the back of a lorry.
Outside of work in the early 2000s, our little town got it's first Mac shop. Not an Apple Store by any stretch but the Little Mac Shoppe, which would end up being staffed by one of my friends, was a haven for us Mac folks. Pop in and try the latest iLife apps, get a little brochure on the iPod, and try to blag your way into getting a free poster.
When I first visited London in 2005, one of the first places I went to was the new Apple Store in Regent Street. I took a Photobooth selfie and emailed it to a bunch of friends and colleagues.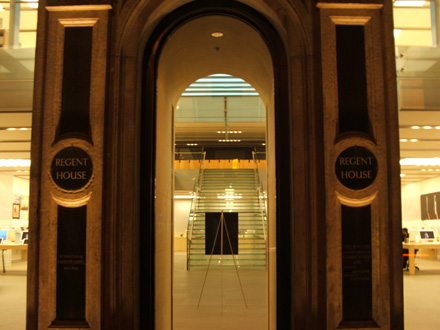 Eventually knowing my way around a Mac bagged me a job in the UK in 2007. This allowed me to move first to Cambridge and then eventually London. Before the move I sold my G5 iMac and picked up a shiny new white MacBook to take with me.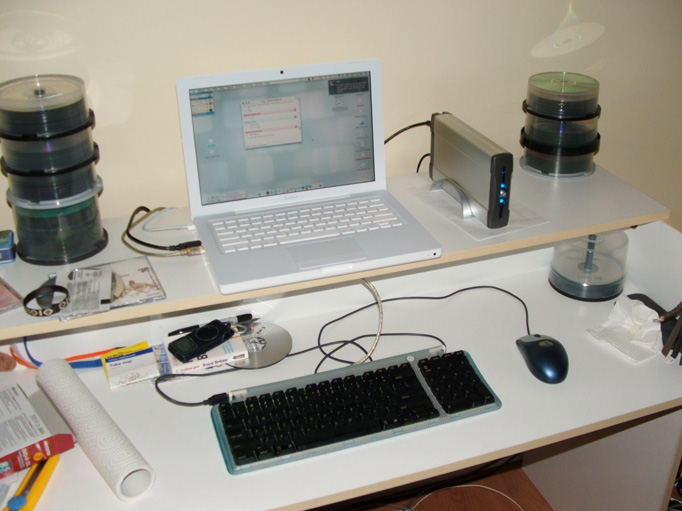 Oh, and the Mac admin job at the college? It went to another one of my friend's. The Ruby one.
Since the UK move there has been a 2010 iMac, a couple of Intel Mac Minis, a 2011 MacBook Air, a couple of 2015 MacBook Pros, and an M1 Mini as the most recent member of the family. Oh, and a G4 iMac, a Powerbook G3 Pismo, and an iBook G4 I've acquired as well (because why not). The iMac is the 'decorative' computer on my work desk at home, a pleasant looking reminder of the journey this happy little computer has taken me on.
Gosh, I almost forgot a key part of my collection. Back in Canada in my dad's store room is also an original 128K Macintosh that I will never part with, despite being separated from.